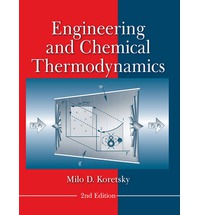 Engineering and chemical thermodynamics, 2ed.
Member Price: $189.95
(what is it?)
Regular Price: $199.95
Members save:
$10.00 (5%)
Availability:
On order - shipped when received
Publisher:
John Wiley & Sons
Publication Year:
2012
ISBN-13:
9780470259610
ISBN-10: 0470259612
Description:
Chemical engineers face the challenge of learning the difficult concept and application of entropy and the 2nd Law of Thermodynamics. By following a visual approach and offering qualitative discussions of the role of molecular interactions, Koretsky helps them understand and visualize thermodynamics. Highlighted examples show how the material is applied in the real world. Expanded coverage includes biological content and examples, the Equation of State approach for both liquid and vapor phases in VLE, and the practical side of the 2nd Law. Engineers will then be able to use this resource as the basis for more advanced concepts.